Get Professional Advice on the Best Lighting Combination to Compliment Your Kitchen Painting and Decorating


Transform your kitchen into a welcoming and cosy space with the expert advice of Prestige Decorating London. Our seasoned professionals understand that proper lighting is crucial in setting the right mood for your kitchen, facilitating meal preparation and creating an inviting ambiance for loved ones.
We take pride in attentively listening to each client's specific lighting needs and providing professional guidance on how to illuminate their kitchen effectively. Our team collabourates with you every step of the way, ensuring that your lighting fixtures align with your personal style while prioritising energy efficiency. Whether you prefer ambient or task lighting options based on activities taking place in specific areas of your home, trust our expertise to transform your kitchen into a bright and beautiful space that will become the heart of your home.
---
The Advantages of Professional Kitchen Painting and Decorating
Elevate your kitchen's aaesthetic appeal with Prestige Decorating London's professional painting and decorating services. Our skilled team of experts guarantees top-notch craftsmanship, ensuring that your kitchen remains breathtaking for years to come.
We possess a keen eye for colour selection, enabling us to help you find the perfect shade that complements your unique style and personality. From bold statements to subtle accents, our skills enable us to bring your vision to life with confidence and precision.Our experienced painters exclusively use high-quality materials that are both durable and long-lasting.
We understand the heavy foot traffic in kitchens; hence we guarantee our paint is resistant to stains, scratches, and scuffs. Transforming your kitchen into a stunning masterpiece is an investment that pays off in spades as it not only elevates the look of your home but also boosts its overall value.
Trust Prestige Decorating London for all your painting and decorating needs; don't settle for less when it comes to one of the most important rooms in your home. Contact us today to learn more about how we can transform your kitchen into a work of art!
---
Why High-Quality Kitchen Painting and Decorating Matters
Your kitchen is the heart of your home, where you cook, dine and entertain guests. It's essential to have a space that reflects your personality and style while also being practical. Prestige Decorating London recognises that each client has unique requirements for their kitchen design. Our team of expert painters and decorators will work with you to create a personalised appearance that complements your preferences.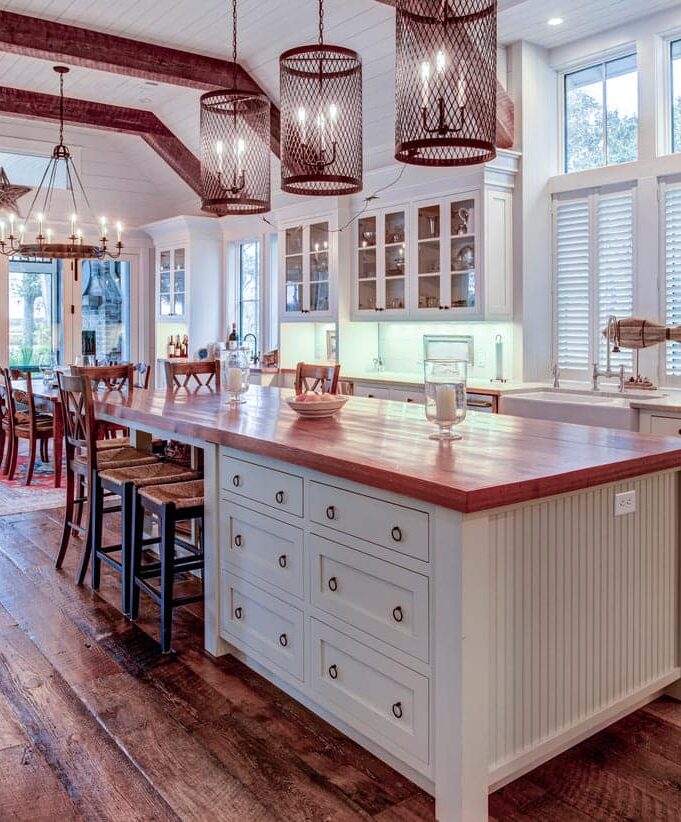 We use only the finest paints and materials available to ensure long-lasting beauty in every project we undertake. Our meticulous attention to detail ensures that every surface is thoroughly prepared before any painting or wallpapering takes place.
Our high-quality painting and decorating services can transform your kitchen into an inviting atmosphere suitable for hosting dinner parties with friends and family or simply cooking meals comfortably. Trust us to deliver exceptional results at affordable prices without sacrificing quality, as our clients have experienced an increase in home value after entrusting us with their projects.
---
Redecorate Your Kitchen in a Way That Adds Value to Your Property With the Help of Prestige Decorating
Transform your kitchen into a valuable asset for your property with the expert assistance of Prestige Decorating London. Our top-notch painting and decorating services will help you maxeimize the value of your property by creating a unique design that perfectly matches your style and budget. With over 30 years of experience in the industry, we are one of London's most trusted painting and decorating companies.
Our team of skilled professionals collabourates closely with each client to deliver exceptional results using only the finest materials and techniques available. Whether you need to refresh your cabinets or completely transform any room, our affordable and convenient redecorating solutions alleviate the stress of revamping your space. At Prestige Decorating London, we understand that every client has unique needs, which is why our approach is tailored to meet those individual requirements. Trust us to make it happen efficiently and effectively while adding value to your property today.